DomKarin in Red Boots
Well, here she is again, with more all new DomKarin scenes to show off to you guys this fine afternoon. The blonde babe has some new clothes that she wanted to show off and there was no way that you'd not see her for this one wearing them. The items in question are some mighty fine looking boots and she looks incredible while wearing them too. As always, she has a male helper around to help her out with the thing and rest assured that it's a treat for him to be here in her presence. Today he's going to be worshipping the sexy mistress all afternoon long while she plays with him and we know that it's going to be awesome!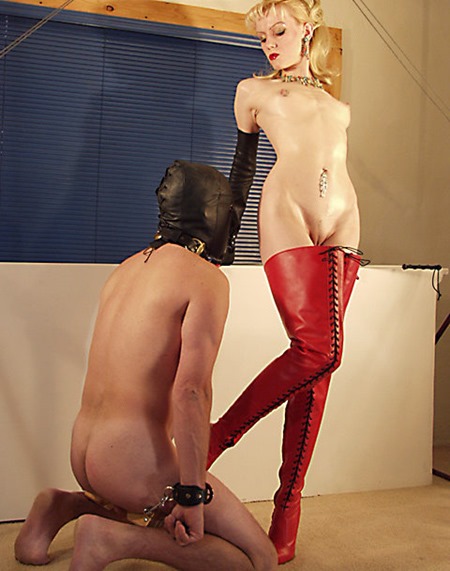 As soon as the scene starts, you get to see Dom Karin making her entry. And those boots that we told you about? those and her gloves were the single items of clothing on her for this one. So she does also take her time to parade that amazing body of hers for the cameras and you as well and after she teases you, the guy comes in as well. Sit back and watch her making him kneel and start to lick those red boots first. She has the stud worshipping her body all afternoon long and she even lets him have a taste of her eager pussy too later. He enjoyed his time as well, but we'll have to see what the blonde mistress has in store for the next scene!